AmpliVisionS, a company working at the leading edge of high power GaN solid-state amplifier research and development in China., announced that model AVBR1060U50 will enter mass production and delivery for the first time.


According to the contract, AmpliVisionS will provide the customer with more than 50 solid-state power amplifier subsystems - AVBR1060U50 in batches within this year. The first batch of 20 sets will be delivered before the end of August. The SSPA subsystem will be used in product test lines for high-end semiconductor devices including 5G chips, switches, filters of
several Chinese communications industry giants such as Huawei and MAXSCEND.

Model AVBR1060U50 is a 100W high gain rack mount SSPA subsystem that operates in 1~6GHz. This amplifier utilizes the latest high power RF GaN transistors improve the overall efficiency and built-in control and monitoring, over-reflection protection functions to ensure high reliability.


This product integrates the latest core technologies of our company, including the techniques and tips about wideband high efficiency matching, high linear cascade design methodology, and wideband equalizer. Benefit from these advanced technologies, this SSPA subsystem can guarantee the minimum saturated power of 100W, while the PAE of the whole frequency band is between 25%~50%.

This high-power amplifier subsystem was successfully developed in December last year, and it has been repeatedly optimized before mass production. Since March, after 3 months of testing, AVBR1060U50 has finally passed various rigorous tests conducted by customer. After several improvements and optimizations, the product was finally finalized in June.

Due to the deterioration of the international trade environment and the decline of the market economy, many companies have to find new reliable suppliers and alternative solutions. AmpliVisionS seized this opportunity and successfully replaced the original supplier (an internationally renowne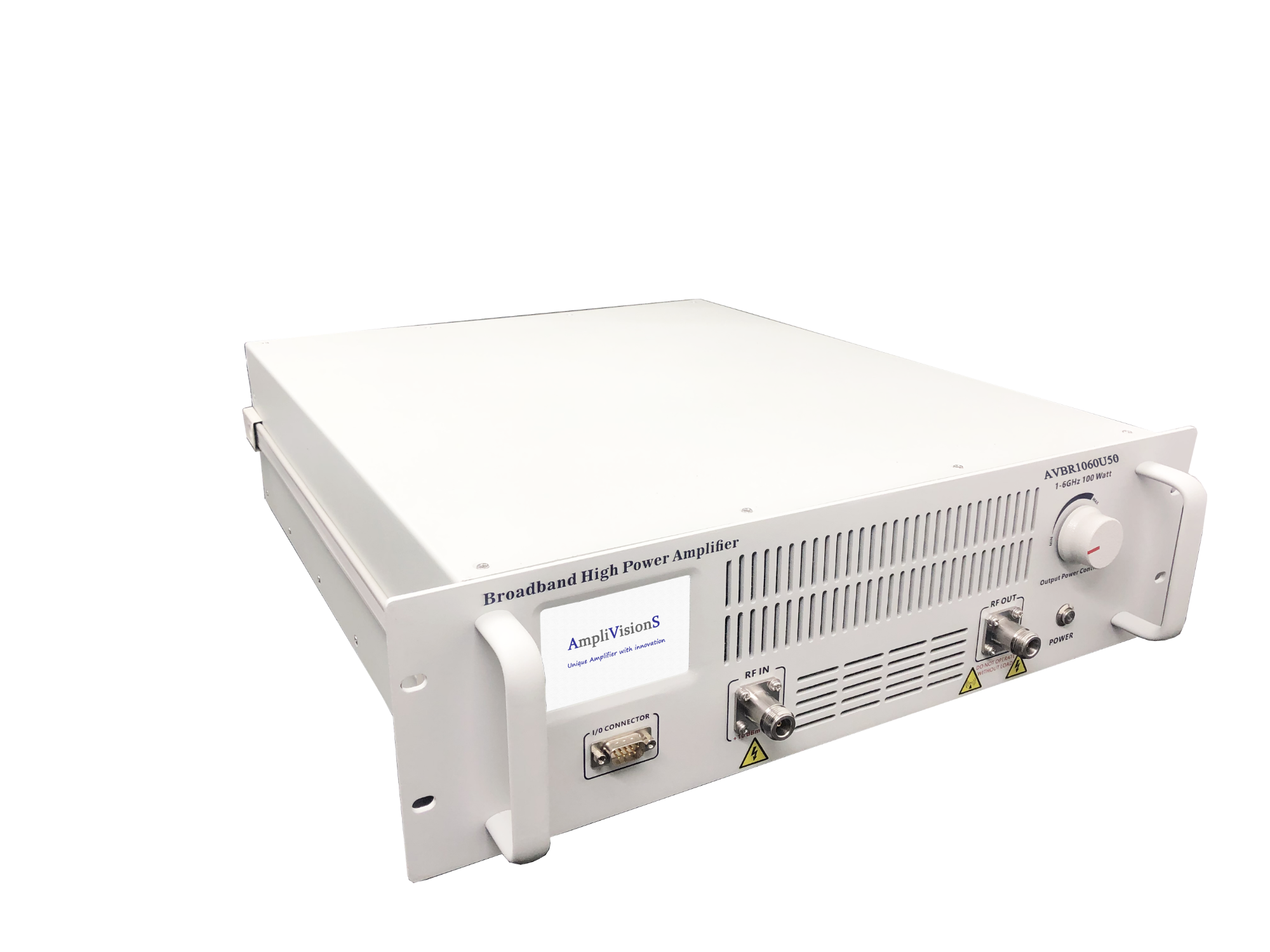 d brand) with its strong product development capabilities and quality management capabilities.

At present, AmpliVisionS's solid-state power amplifier product line has covered form 1MHz to 40GHz, with an output power up to kilowatts. The actual application areas of those amplifiers include general testing, special communications, electromagnetic warfare, phased array radar, UAV systems etc. AmpliVisionS is still constantly developing new products to meet the diverse and ever-changing needs of customers. The vision of AmpliVisionS is to fill the need for high quality, reliable, state-of-the-art, power amplifiers at an affordable cost, with quick deliveries, and hassle-free customer service.